Sovereignty in national defense
Involving Indian industrial and technology partners and the Indian Navy in all the phases of the lifecycle, from the design to the sustainment, ensuring a complete transfer of knowledge.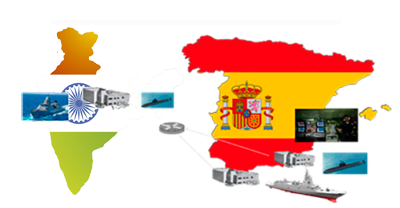 Open design to maximize the incorporation of Indian local content on a cost-effective basis.

Current S-80 Plus suppliers highly motivated to collaborate with Indian Partners.
Transfer of Technology and IP Rights. Navantia is open to share, based on a proven model, easy to understand and to deal with which requires limited resources and provides certainty.
Indian Industry to "fly solo" following first P75(I) overhaul, supported by Navantia's experience of 40+ overhauls for the Spanish Navy submarine flotilla.
Extensive experience in International ToT programs.
The S-80 Plus is the most advanced conventional submarine worldwide, equipped with the BEST@ latest state-of-the-art AIP system using bioethanol.
The S-80 Plus is the only existing 3000 ton displacement submarine design equipped with AIP and is, therefore, the closest to the P75(I) requirements, allowing Navantia to comply with minimum modifications, and to focus on making the P75(I) a fully indigenous submarine.